CFMA Pacific Northwest Regional Conference - September 25-27, 2022
Sep 25, 2022 - 2:00 PM (PT) - Renaissance Seattle Hotel; 515 Madison Street, Seattle, Washington 98104
Hosted by Puget Sound, Seattle, WA
About this Event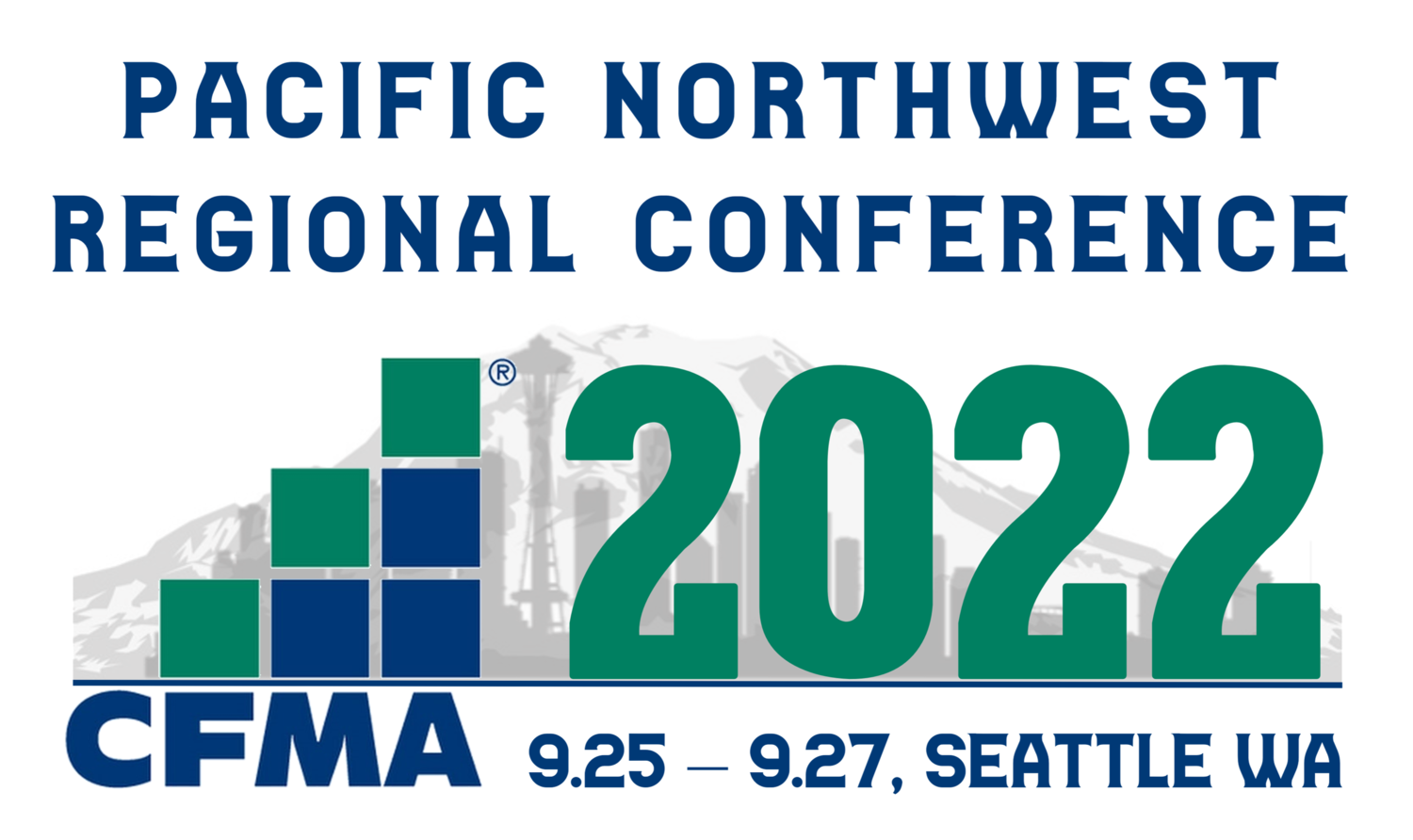 The Alaska, Honolulu, Idaho, Portland, Puget Sound and South Sound CFMA chapters have joined together to provide our Inaugural CFMA Pacific Northwest Regional Conference. Together, we are committed to delivering the best networking, education, and training experience of any kind in the field of construction accounting and finance.
We understand the challenges Construction Financial Managers face and we realize you do not have the time or resources to stay abreast of all aspects of what that job entails. That is why we created this annual event.
This year's conference will include 1 1/2 information-packed days, including expert keynote speakers who provide great insight about topics such as surety and bonding, technology, human resources, taxes and overall industry changes and updates.
You have no-doubt been very aware of how changing market demands are forcing change on how you do business.
WHAT YOU DO NOT KNOW CAN HURT YOU.
CAN YOU REALLY AFFORD NOT TO ATTEND?
The CFMA Pacific Northwest Regional Conference is designed for CFOs, controllers, and financial managers in the construction industry; construction CPAs; banking and financial service professionals; insurance professionals; surety underwriters; attorneys; and other construction industry specialists.
Sessions are designed as group-live programs at the basic level and unless otherwise indicated in the session description, there are no prerequisites or advanced preparation required.
TO REGISTER FOR THE PACIFIC NORTHWEST REGIONAL CONFERENCE:
https://www.pacificnorthwest.cfmaregional.org/
PRICING
EARLY BIRD*:
Member: $295
Non-Member: $370
REGULAR:
Member: $345
Non-Member: $420
Monday Evening Networking Reception Guest- $50
*Early Bird pricing valid through 06/25/2022
Special Note: All non-members will receive a complimentary CFMA membership for the remainder of the 2022 CFMA year. Details and additional information will be provided at the conference.
Featured Speakers
No presenter information provided.